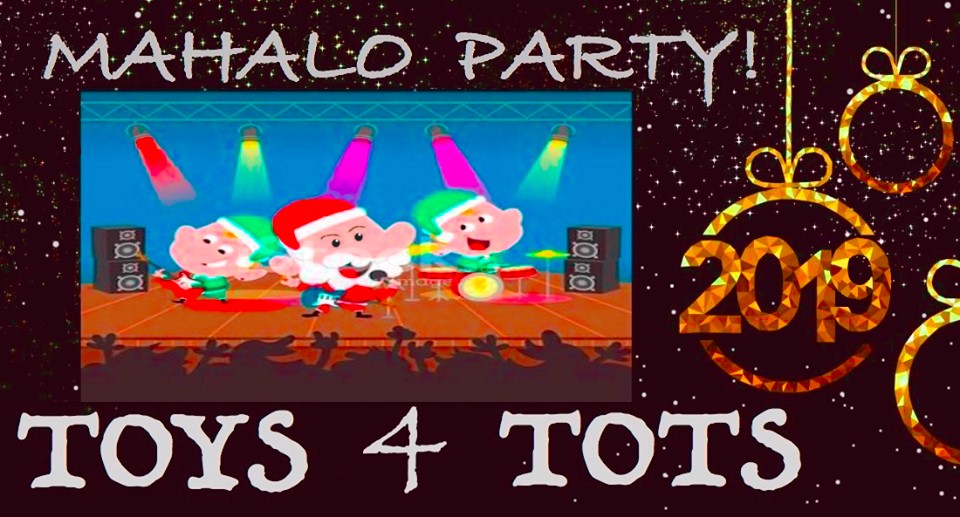 2019 Toys 4 Tots Motorcycle Run & Toy Collection Drive
Annual Mahalo Party, Saturday December 14th starting at 1:00 P.M.
Located at the Kihei VFW Hall: address: 2110 Uluniu Rd, Kihei, Hawaii
Hosted by Street Bikers United Maui Chapter
Headlining this Amazing Musical lineup:
— The Jimmy Dillon Band —
Singer, songwriter, recording artist and musical educator,… Jimmy has toured the world and worked with Carlos Santana, Sting, Clarence Clemons, Buddy Guy, Luther Allison, and recorded with John Lee Hooker. California, Chicago, and now on Maui, playing the best of rock, pop, soul, dance and more, Jimmy and his band are the "real deal" !
–Featured band members:
*Dayan Kai – Keyboards, guitar vocals Multi- instrumentalist and vocalist extraordinaire
*Rock Hendricks – World class Sax man and recording artist who has toured and played with the best.
*Tim Hackbarth – Bass guitar, one of the most highly respected and talented "all-style" bassists in Hawaii
*Kris Thomas – Drums, master of contemporary drumming styles … percussionist, studio engineer, and producer.
*Kelli Dillon – "Baby K" percussive rythmatist & dancer.
——- and "Special Guests" !
Also on board for this Magical Musical Mahalo Party: Steve Craig and The Lonely Heart Shakers Band
Multi-talented songwriter, singer, musical performer of drums, piano, harmonica, studio engineer… and World class John Lennon Beatles tribute artist, to party us on a cover of the greatest hits from one of the greatest bands and more!
Let the Energy make us sing n dance!
–Featured band members
*Lenny Castellanos— +
*Kenny Geiser—–these 2 Top-notched Maui musicians are part of the famous Maui House Shakers and Mick Fleetwood band
*Martin Fera– This World-class drummer has worked with Glen Frey and Joe Walsh, and currently performs with Willie K
And rocking us home are: The Syndicate
This amazing Maui Hi-energy Top 90's alternative band is led by local charismatic artist and powerful front man Lawaia Aweau and his versatility, delivering the best of Nirvana, Red Hot Chili Peppers, Green Day, Stone Temple Pilots, etc!!!
His Band will leave you cheering for more!
–Featured band members:
*Alan Stevens
*Josh Greenbaum
*David Vickers
Their Maui , National, and International resumes of musical excellence impress all who have had the privilege to play with/ had opportunity to indulge in their talents!
The Toys 4 Tots Event Festivities continue on with food and merriment throughout the day: ***with Surprise Guests throughout the party (wink wink) ***and DJ Lisa to keep da flow!
Special Music Appreciation:
– Joe Doggy Productions (Joe Sterling)
– Village Audio
– Maui Entertainers Coalition
– Mana Soul MC
– Christopher Dack
– Spencer Morales
– Barbara Ruberto
– Leo Javali
– David Wiltsie
– Lisa Karch
– Kenny Roberts
– Donna Rohrer
-Joette Burke
– KAKU Maui Community Media
SPECIAL Mahalo to our Partners
*** Minit Stop ***
*** Azeka Mall ***
Mahalo to our Maui Community and to our Sponsors:
~ Koolau Aviation
~ Condominiums Rentals Hawaii
~ Maui Motorcycle Co.
– IMM
– Lineage
~ Kohola Brewery
~ Kimokeo Foundation
~ Nalu's South Shore Grill
~ Alpha Inc.
~ Filco Co.
~Makena Weddings
Special Appreciation:
– Joe Doggy Productions
– Village Audio
– All Access Entertainment
– Maui Entertainers Coalition
– Mana Soul MC
– Christopher Dack
– KAKU Maui Community Media
– Rawksolid Productions
-Keller Williams Realty
Media Sponsors:
– KAOI Radio Group
– BuZz 107.5FM
– Jack Gist, Kathy Collins (Auntie Tita!) and Cindy Paulos
Street Bikers United Maui Chapter is a Nonprofit Organization #sbumaui
We Love all Who Volunteer 
Mahalos to our Sponsors & Supporters and Volunteers, who donated not only money, bikes and new Toys, they gave of themselves with their time and energy. Big Mahalos to all who kokua our Maui County Keiki.
Please follow the links for additional Event information:
https://www.facebook.com/events/970199393349237/
https://www.facebook.com/sbumaui/