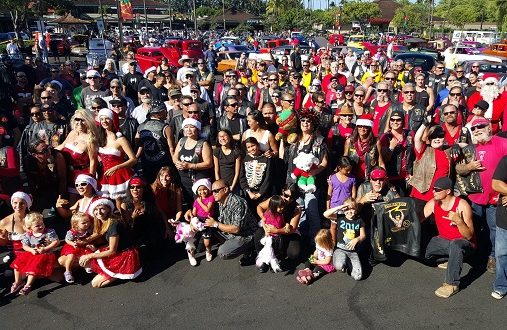 Street Bikers United Toy Collection Run and Parade is coming up fast!
The Team at Street Bikers United is asking everyone to start arriving at Azeka Shopping Center in Kihei, between 8:00- 9:00 AM. We will be taking over the whole "Makai" (ocean-side) parking lot for our 2019 Toys for Tots Toy collection and Motorcycle Run Event.
Our SBU Toys for Tots Event is a great way to "See and be Seen" by all the Motorcycle enthusiasts on Maui, not to mention getting a chance to check out all the Motorcycles and Classic Cars…
Our Morning Festivities Include:
DJ Entertainment and M/C starting at 8:00 A.M.
Coffee, Pastries and Spam Musubi will be on sale, and Nalus South Shore Grill will be open for Breakfast and Bloody-Mary's…
Keiki Bicycles with Helmets Giveaway at 9:30 A.M.
Group Photo at 9:50 A.M.
Motorcycle Run and Parade 10:00 A.M.
Kickstands up by 10:00 AM.  The Parade of Motorcycles, Classic Cars and a Canoe filled with Christmas Toys will head out. *We will not be stopping at Minit Stop this year. We are still discussing our Route and we will let you know as soon as it has been decided on.
"Street Bikers United Christmas Toy Drive is the Single Biggest Toy Drive for Maui County ~Maui Salvation Army"
Are You Ready to Party?!
The 'After Party' will be held at the Oceanfront VFW in Kihei. This year to help keep everyone together and have even more Fun, we will be selling Lunch Tickets and serving Lunch. While we do not have the menu set, we are thinking of doing a Rib BBQ, similar to the one we did in July for Tools for School. YUMM!! Lunch Tickets will be $10.00. There will also be various Vendors selling other food options such as Chow Fun. Plus a few of our Friends and Sponsors will be setting up various Booths.
Entertainment
Our Musical lineup gets better every year thanks to Ron Ponzo of Nalu's and Lenny Francis. Musicians and Band names will be announced at a later date…
Toy Bunnies and Donations
Throughout the day, Toy Bunnies will be on hand Collecting Donations and Selling our 2019 Maui Toys for Tots T-Shirts and Memorabilia.