Posted By
sbumaui
2018 Maui SBU Toys for Tots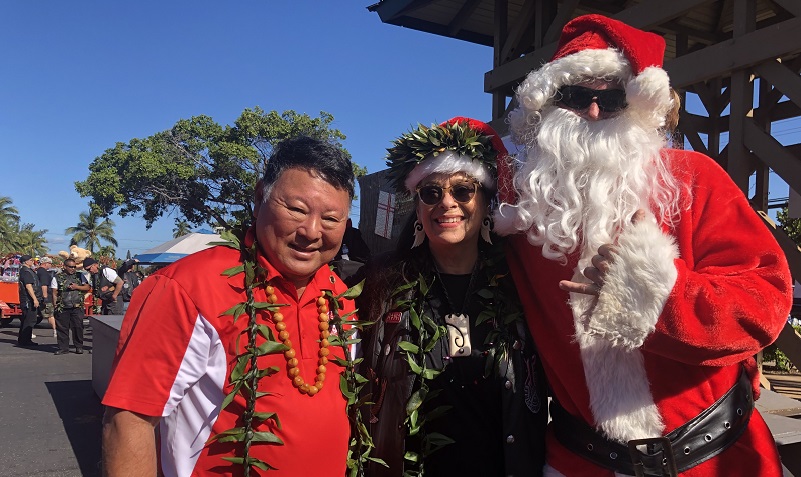 Street Bikers' United, in support of Toys for Tots.
Toy Collection Run, Parade and After Party.
Main Event: Azeka's Shopping Center -makai side.
Motorcycles start rolling in at 8:00 AM, with a Bike Giveaway, Social 'See and be Seen' while checking out all the cool Motorcycles…
Kickstands up at 10:00 AM after the group photo. Ride to Minit Stop in Lahaina, before riding to the VFW in Kihei for the After Party.
Featuring Live Music by Maui's Top Musicians!
Soul Kitchen
Soul Kitchen is acoustic-infused musical alchemy, blending the traditional genres of Zydeco, Soul, Cajun, Blues, Rock and Middle Eastern influences. The stirring, smoldering voice of award-winning lead vocalist Tempa Singer Nave effortlessly buoyant rhythms of guitarist Naor Nave meld with drummers Kevin Garland's and Kerry Sofaly's funk-filled cues mixed with traditional washboard playing while Bruce Boege's seasoned saxophone drips with cool. Finally, the subtle and sustaining tones of keyboardist Michael Elam round out the mix to make this exquisite mess of soulful flavors an essential Maui experience for the musical senses.
Danyel Alana
Maui Time says "Danyel Alana is an accomplished guitarist, singer and songwriter Alana, brings beautiful island sound to familiar R/B, soul and rock classics on the Lanai at Pi Artisan."
Luna Overdrive
Wanna have fun dancing all night? Luna Overdrive is the dance band for you! Luna Overdrive is Maui's fun dance band with something for everyone. Dance your feet off as you sing along to your favorite songs all night. Luna Overdrive's music is packed with raw energy! Luna Overdrive is fresh, and new, yet formed from seasoned musicians who know how to get the party going and keep it that way.
Kane Koa
Kanekoa describes its music as ukulele powered Hawai'ian reggae folk rock. Kanekoa has been playing together since 1999, melding elements of Hawaiian, Rock, Folk, Blues, Reggae and improvisation into a truly unique sound. Kanekoa is one of Hawaii's premier live music experiences. Because their sound is based on the yet untapped potential of the electrified Hawaiian ukulele, inspired by the range of musical tastes of its players, and shaped by the land and culture of Hawai'i, Kanekoa has discovered a land of limitless musical possibility. In short, you have not heard or seen anything like this before. "The band is amazing, and Vince is amazing" —Mick Fleetwood
Bad Kitty
Bad Kitty with 4 lead vocalists, is all about variety, great harmonies & all the songs you love to sing along with…
If you have not already gotten up to dance, Bad Kitty will get you on the dance floor!
Hungry?
808 Street Grindz Food Truck will be on hand to purchase hot Brisket Sliders, Grilled Meat and Cheese Sandwiches and more.
Thirsty Yet?
What After Party would be complete without a Bar? For those of us over the age of 21… Beer, Wine and Well Drinks will be available for a donation (with script).
Door Prizes/Raffles
Raffles will be pulled several times during the After Party, and we have lots of great prizes! From Restaurant Gift Cards, to Truck Straps, to a BBQ Grill….
While we have many raffles prizes to give out, the top 3 are:
1} 3 Night Condominium Stay on Maui or Kauai.
2} Husky 36 in. 12-Drawer Tool Chest and Cabinet Combo
3} BBQ Grill