Posted By
sbumaui
2019 1st Place Chili Contest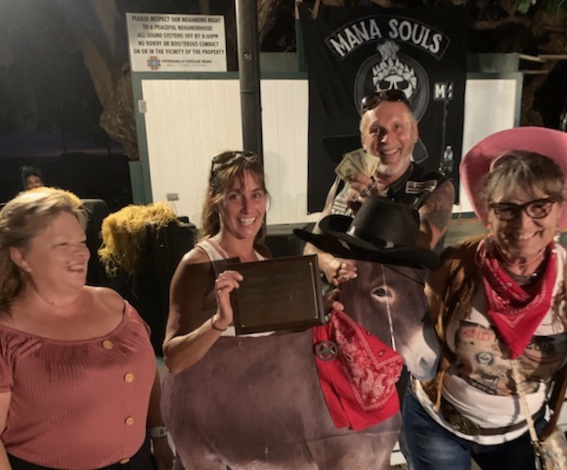 Mana Souls Chili Cook-Off!
The Team here at Maui Street Bikers United, won First Place for the 2nd Year in a Row in the Business Category. The Mana Souls had 3 "Blind Judges", and 3 Categories: Individuals, Clubs and Businesses.
I (Athena) give Jackie full credit for coming up with Booth Decorating idea and implementing it. Our Blackberry drinks in the "clear little boots" were a hit! Everyone kept coming back and asking for more. Jackie made the drinks up the night before, which included a lot of fresh squeezed Lemons. Our Cowboy theme with Photo Booth and Donkey was also popular, later in the afternoon we had a lot of people taking photos.
I honestly did not think we would win first place again, although we hoped to place. There were so many other Chili's in the business category to compete with- Great Chili's! I made the same Chili recipe 3 years in a row. I personally thought last years 2018 Chili was better, I am still perfecting my recipe. I know a lot of Chili Chefs this year told me they use a Blender… not me. Everything was done by hand and a good knife. I literally take all day to make this Chili. Trust me, there are a few other ingredients not shown here, I don't want to give all my secrets away… 🙂
We at Maui Street Bikers' United hope to see everyone at the 2020 Mana Souls Chili Contest. Oh and by the way… it Sold Out last year! I believe they capped it at 30 Booths. (I guess the Judges can only taste so much Chili). If you want to join in the fun, get your name on the Chili Booth list asap… This last year saw an eclectic crowd, not just bikers. Hot Dogs and Bar were available for Donation, and live Music throughout the afternoon.